Each Gummy Contains
25mg Extra Strength Full Spectrum CBD
20 Gummies per bottle
Ingredients
Tapioca Syrup, Purified Water, Gelatin, Cane Sugar, Citric Acid, Apple Juice From Concentrate, Sodium Citrate, Natural and Artificial Flavors, Natural and Artificial Colors, Coconut Oil and Carnauba Wax.
Flavors
Orange - Orange
Red - Cherry
Green - Apple
Yellow - Lemon
Directions
Take 2 gummies everyday to keep the scaries away.
Research suggests the effects of CBD are better felt taking the product daily for at least a month.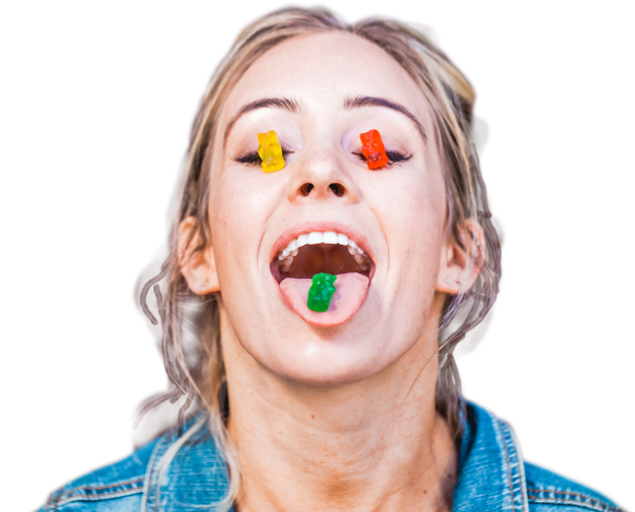 Reliable Certifications
At Sunday Scaries, all of our CBD raw materials are sourced from KND Labs in Denver, Colorado. KND Labs is a cGMP, ISO 9001:2015 and Active Pharmaceutical Ingredient (API) Certified supply chain partner of CBD ingredients for global consumer products.

Their pristine, state of the art facility ensures clean, consistent and reliable CBD throughout the supply chain, from soil to oil.
Lab Results
Click here for 3rd Party Lab Results, also known as Certificates of Analysis.
Frequently Asked Questions
For beginners, a great way to take CBD is to start with 10 to 20 mg per day and then scale up afterwards depending on your reaction. We offer our regular Sunday Scaries CBD gummies for this exact purpose, it's our introductory product. For those who are looking for an extra dose and to really kick the stress monster's ass, take Sunday Scaries Extra Strength with the heightened efficacy.
Sunday Scaries Extra Strength offers a 25 mg dosing per gummy. Also, in our regular CBD gummies we have added vitamins D3 and B12 to help boost the effects. For Extra Strength, the concentration with regards to formulation was solely on the CBD raw materials, and we used a proprietary broad spectrum oil blend with added minor cannabinoids such as CBG and CBN. These minors help amplify the anti-stress characteristics in this product.
The onset after taking the gummies happens in about 15-30 minutes. You should feel a light sense of relief which can help you overcome your overwhelming day. The effects should last 4-5 hours, but it is important to remember that there are no "high" effects from taking CBD. It is better used as a daily supplement and you often can assess how much it's contributing to your daily routine after you stop taking the product. Daily and continued use leads to the best effects for CBD.