FOMO Bones:The Natural Calming Treats for Dogs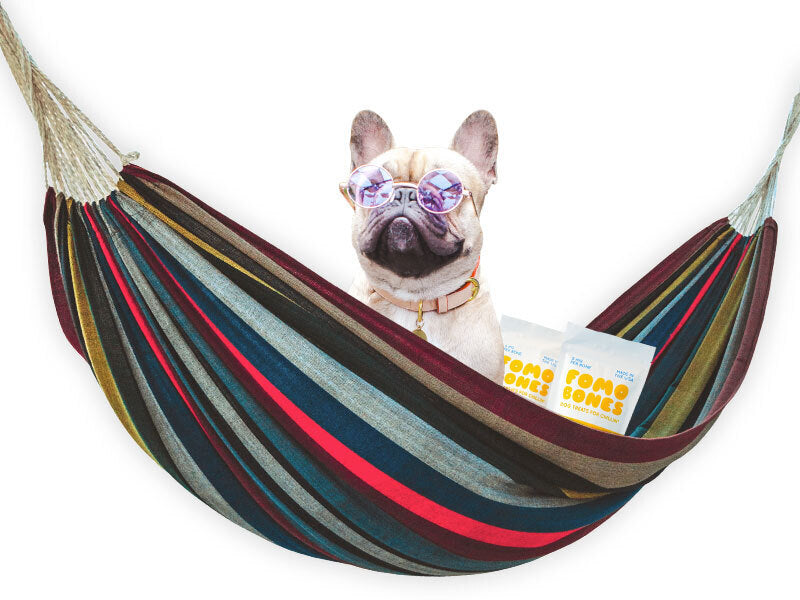 Helps dogs relax in stressful situations:
Separation stress while you're at work
Fear of fireworks and loud noises
Nervous licking and whining
Loud vacuums and home appliances
Car trips and outings (vet visits!)
TRY FOMO BONES
"FOMO Bones are the only treats that help calm down my stressed out pup"
Danielle St. Pierre, Dog Mom & Health Editor
What Makes FOMO Bones So Effective?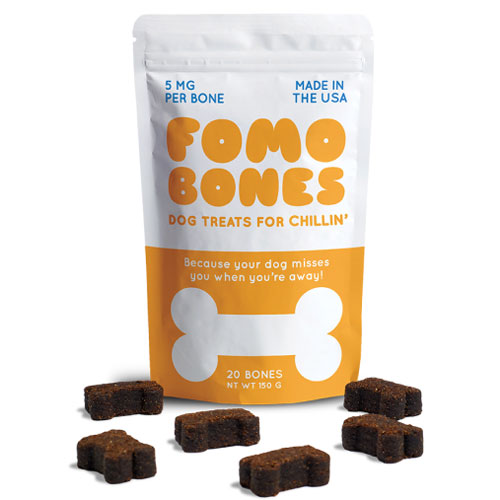 Natural Calming Properties
Support Emotionally Calmer State
Why Thousands of Dogs Choose FOMO Bones
100% lifetime money back guarantee
All Natural
GMO Free
Pesticide Free
FDA - Approved Facility
Lab Tested & Verified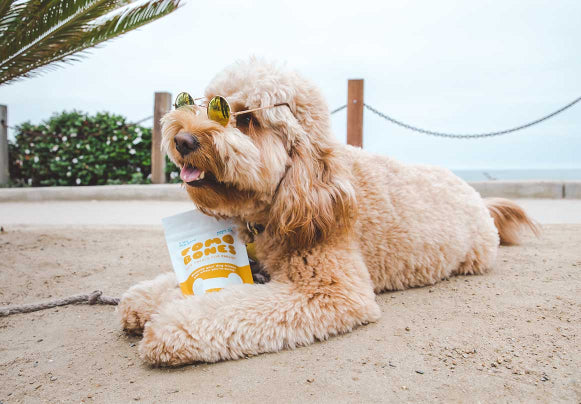 We spent over 18 months custom formulating our FOMO Bones with a proprietary blend of natural herbs and extracts.
Give your fur baby 1 bone 20 minutes before you leave the house for work, before bedtime or before they enter a stressful situation (vet, dog parks, fireworks) to help calm their nerves.
Small Dogs 1-50 lbs, 1 FOMO Bones per day
Large Dogs 51+ lbs, 2 FOMO Bones per day
FOMO Bones are soft and chewy for sensitive jaws
Relief for DOGGY STRESS from Mild to High
Buy 1 Package 2 week supply
Subtotal: $29
100% Money Back Guarantee
Shipping Calculated at Checkout
Most Popular
Buy 2 Packages + Get 1 FREE 1 Month Supply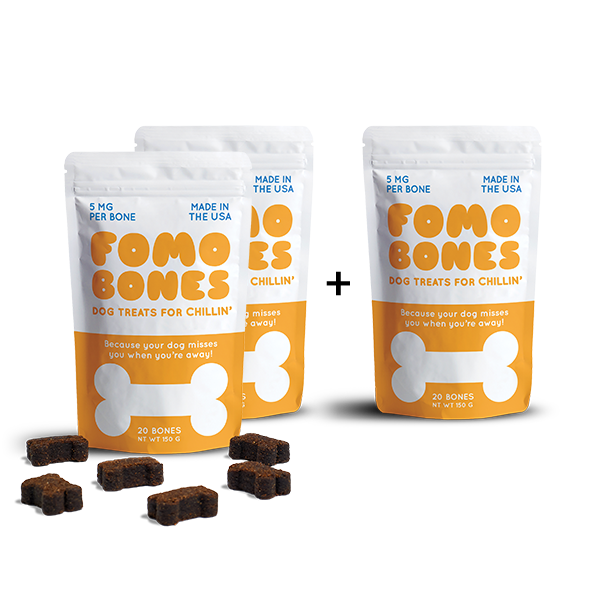 Subtotal: $58
100% Money Back Guarantee
FREE SHIPPING
Best Value
Buy 4 Packages + Get 2 FREE 2 Month Supply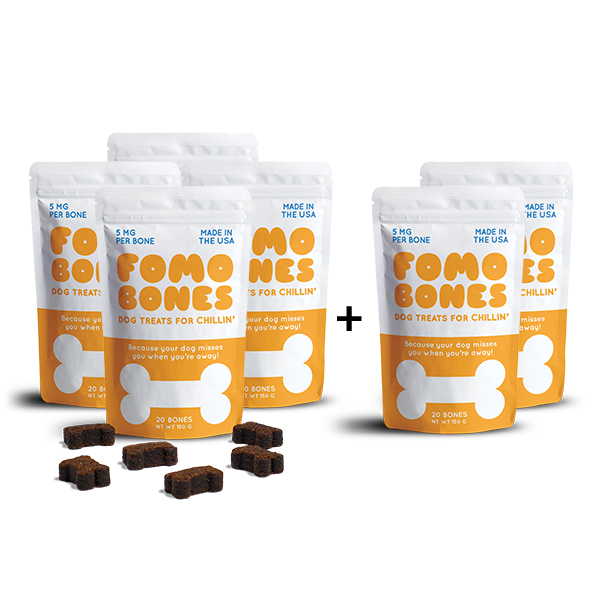 Subtotal: $116
100% Money Back Guarantee
FREE SHIPPING
See what pup-parents are saying
My Pup Loves Them
My dog has separation anxiety so I give him two of these every time I'm going to be gone for a while and he loves them. I like that I can give him a controlled dose.
Ashley N.
FOMO Bones
Fast Acting and Convenient
Average taste but fast acting and convenient delivery options. My dog even likes the doggy treats. 100% recommended.
Robert E.
Fomo Bones
Helps Ralph chill out!
When I leave my pup Ralph at home when I go to work he scratches at the door, barks like a maniac and runs from the front window to the door wondering where I'm going. I hate seeing him this stressed and my neighbors aren't too stoked either. FOMO Bones chills him out within 10 mins and I feel confident leaving him by himself.
Nick S.
FOMO Bones
My little yorkipoo LOVES his Fomo Bones.
My dog is easily startled when he is sleeping but i've been giving him the Fomo Bones before bed and he has been sleeping through the night.
Amy B.
FOMO Bones
FOMO Bones vs Other Calming Treats
| | I'm FOMO Bones | Traditional Calming Treats |
| --- | --- | --- |
| All Natural | | |
| GMO Free | | |
| Award Winning | | |
| Proprietary Blend | | |
| Made in USA | | |
| 100% Money Back Guarantee | | |
Frequently Asked Questions
When should I give my dog FOMO Bones?

We recommend giving you dog FOMO Bones 20-30 minutes before you embark on a stressful situation. The most popular time is as a nighttime snack, 20-30 minutes before bedtime.
Will FOMO Bones hurt my dog's jaw or teeth?

No! FOMO Bones are super soft bone-shaped chews so they're easily enjoyable for all ranges of jaw strengths. 
What makes your FOMO Bones treats different?

Unlike other hemp extract-based treats, FOMO Bones are made by a speciality manufacturer that specializes in the industry's leading speciality dog foods. They know their stuff.
Will FOMO Bones get my dog high?

No. FOMO Bones uses a hemp isolate which is free of other cannabinoids and THC.
What if my dog is small?

FOMO Bones can still be used for dogs under 10 pounds. We recommend breaking a bone into half for extra small dogs or dogs with sensitive stomachs.
Are there any side effects?

Just like humans, each dog is different and reacts differently to different ingredients. While very uncommon, if your dog experiences nausea, stop using FOMO Bones.
Can I take FOMO Bones on a flight?

Yes (for domestic flights). The TSA recently allowed hemp extract with under .3% THC to be allowed on domestic flights.