Are you tired of being so anxious all the time?
But everything you try to eliminate stress seems to fall flat?
But they only "kind of" work, and eventually you stopped doing them because nothing really got you all the way there, right?
We've dealt with this problem too, we feel your pain. That's why we custom formulated a product specifically for this type of worry, so you can spend your free time without guilt and get your self-confidence back.

Your Scarefree life is right at your fingertips... find out why over 300 publications have featured our products and how thousands of Verified Buyers eliminated their self-doubt and took their Sundays back.
Best Stress Gummies of 2023"
The Stress Gummies to fall in love with"
Top Stress Gummies of 2023"
The tastiest products on the market today"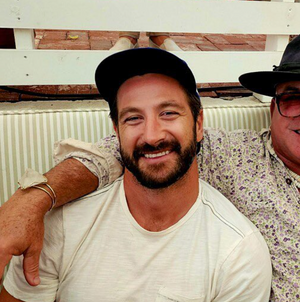 "I work all the time for my consulting job and it gets taxing on my mind energy. Then Friday hits and I just want to let loose and have a great weekend, but then my Sundays suck haha. These gummies allow me to live my social life without compromising my professional growth."
Tyler Pringle
Verified Buyer
"I'm a private flight attendant and there's two things that are constant in my life: lack of sleep and constant stress. I've tried teas, meditation, white noise machines... you name it, and all of it falls flat. Sunday Scaries is the only thing that works, I can't travel without it."
Ashley Steele
Verified Buyer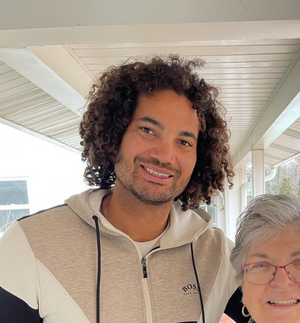 "These gummies actually work to destress. Plus, this company has an incredibly relatable brand name. I always thought I was alone in dealing with the sunday scaries, and then it's like woah.. someone actually made a product to solve them. I'm a subscriber since I take them everyday and you get 20% off. No brainer."
Lawrence Weller
Verified Buyer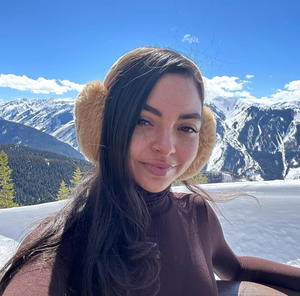 "I love working on my self growth. Reading, yoga, traveling and becoming the best version of myself. Sometimes life is hard though, and instead of just suffering through the dark spots I decided to do something about it instead. That's when I found Sunday Scaries on a Facebook ad. Their gummies help me to break free from bad thoughts and only concentrate on good vibes."
Lillian Torrente
Verified Buyer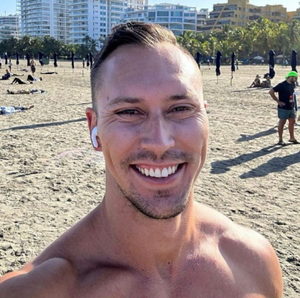 "I'm all about transition. Transition into greatness and being my most elite form possible. Although there have been many trials and tribulations, I know I'm on the right path and I'm proud of the positive change I continual produce. That being said, life throws some crazy curveballs at you and sometimes you need a little extra help. Sunday Scaries edibles come in the clutch when those times happen.
Chris Vasquez
Verified Buyer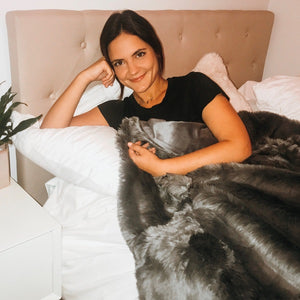 "This has been a serious game changer for my day to day general anxiety. I love Sunday Scaries gummies because 1. They taste good so I never forget to take them and 2. They are great to supplement on top of the tincture if you need a little extra."
Carissa Stanton
Verified Buyer
EXISTING SOLUTIONS THAT DON'T WORK & COMMON MISTAKES:
"But Stress Gummies are just a placebo aren't they? And none of the products actually work…"
Yup, we've heard it many times before. To clear things up, the reason why the industry of the magical green plant is full of snake oil products is because the FDA still needs to regulate it. It creates a lower barrier to entry for companies who just want to make a quick buck, without taking the time to develop a legitimate product.
"There is a ton of noise out there - now everyone and their milkman has a company with this hippie plant. 'Medi-this' companies are a dime a dozen. It takes experience to see through the clutter and purchase from those who are transparent and legit."
If you want an expert tip, DO NOT purchase stress relief gummies on Amazon. The raw materials from those companies are sourced from China and are not lab tested. Also, there is no scientific way they contain the dosing of Full Spectrum (the oil from the plant) they advertise. Consider this is warning, and beware. Even if you don't purchase from us, DO NOT purchase from Amazon. Sidenote: we love Amazon, we buy a bunch of products from them, just NOT stress gummies since they don't allow the credible brands on there. Just check for yourself.

For the brands that ARE legit, the main difference between us and them is that we custom formulate our products specifically for stress relief and sleep aid. Our competitors advertise themselves as a cure-all for every ailment under the sun, not focusing on any specific use case. We're the anxiety experts and we custom developed products specifically to help you destress.
Us vs. Them
| | I'm Sunday Scaries | I'm Every other Stress Gummy company |
| --- | --- | --- |
| Specifically formulated for stress relief | | |
| Made in USA | | |
| 3rd Party Lab Tested | | |
| 10mg dosing, as advertised | | |
| Low Sugar (1g) | | |
| 100% Money Back Guarantee | | |
Introducing Sunday Scaries
The Stress Relief Gummies that actually work for stress relief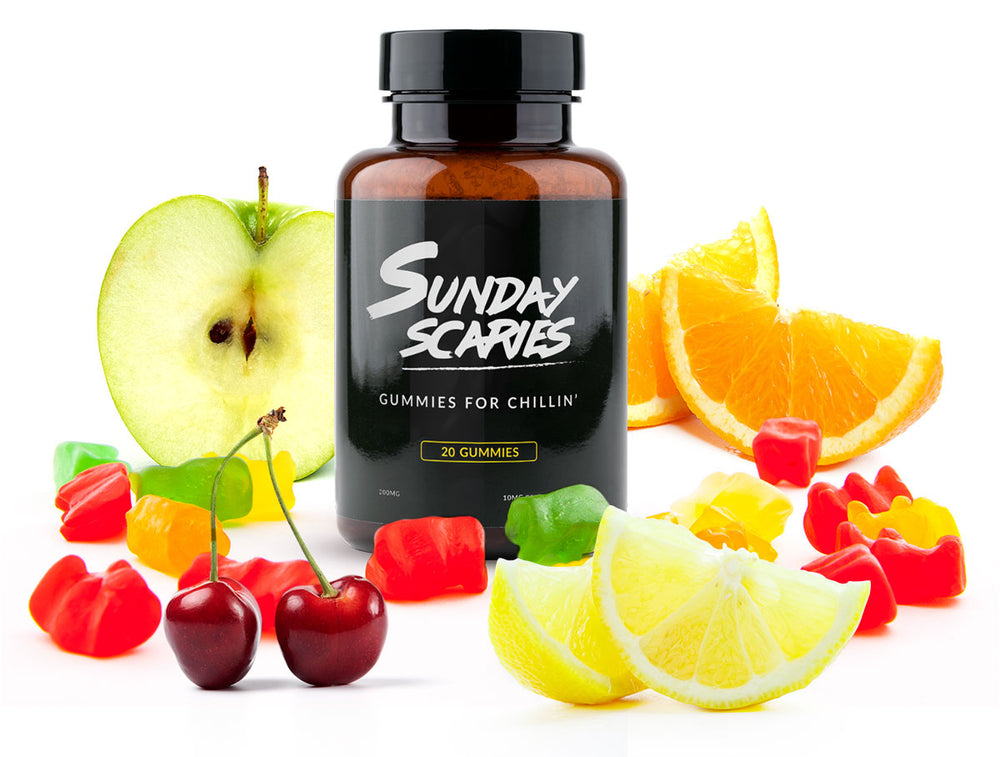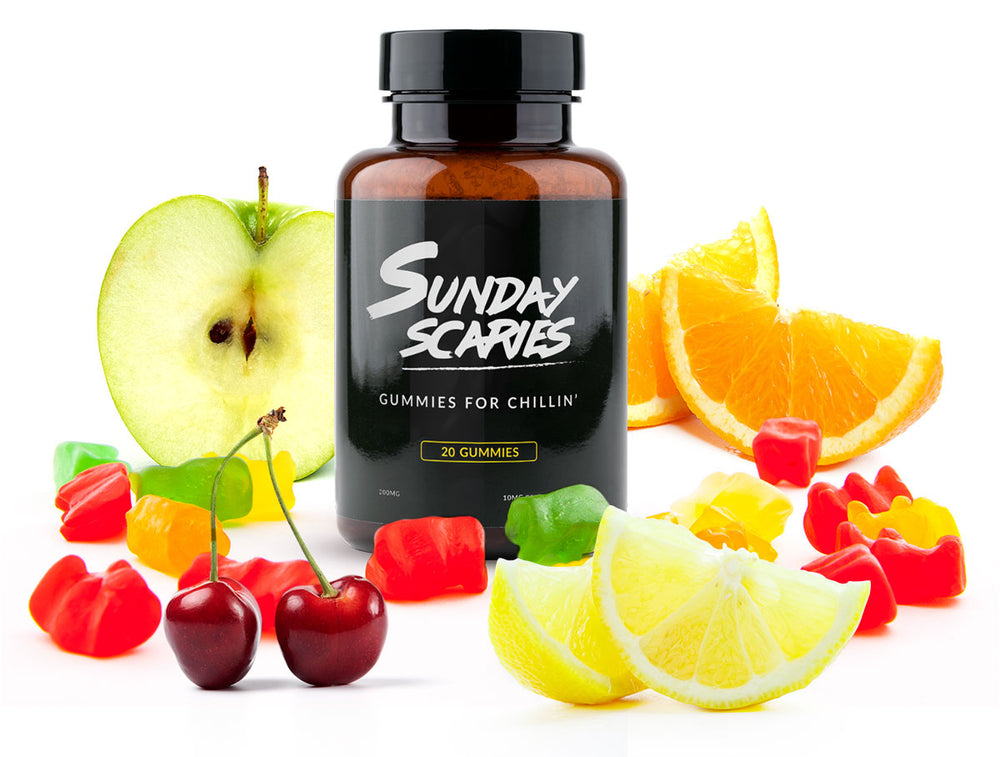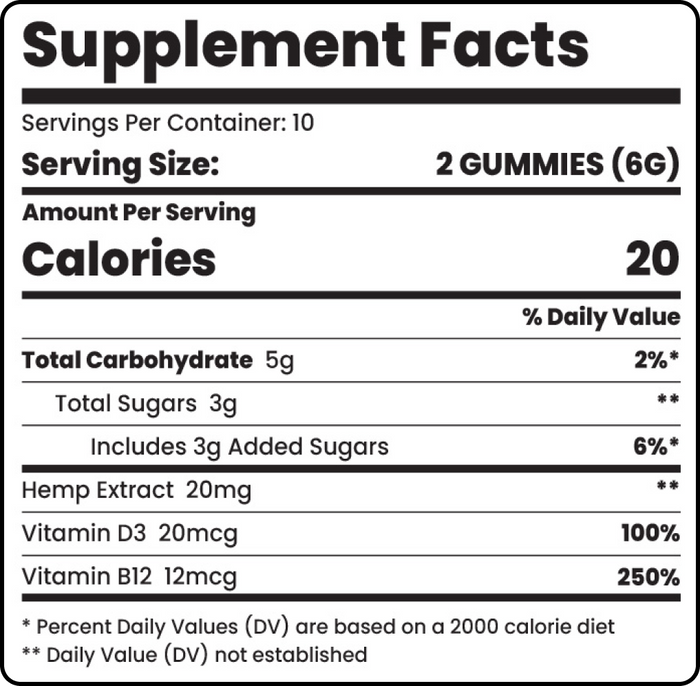 Ingredients
Corn syrup, sugar, beef gelatine, citric acid, palm oil, artificial flavors, carnauba wax, beeswax, color (Red No. 40, Yellow No. 5, Yellow No. 6, Blue No. 1)
Flavors
Orange
Cherry
Apple
Lemon
How it Works
Our proprietary Full Spectrum Blend promotes the "Entourage Effect", which is the theory that green plant compounds work best when used together (not isolated) in a synergistic way to increase the overall effects.



The combination of the Full Spectrum Blend along with the enriching vitamins result in optimal stress relieving effects. See active ingredient details below.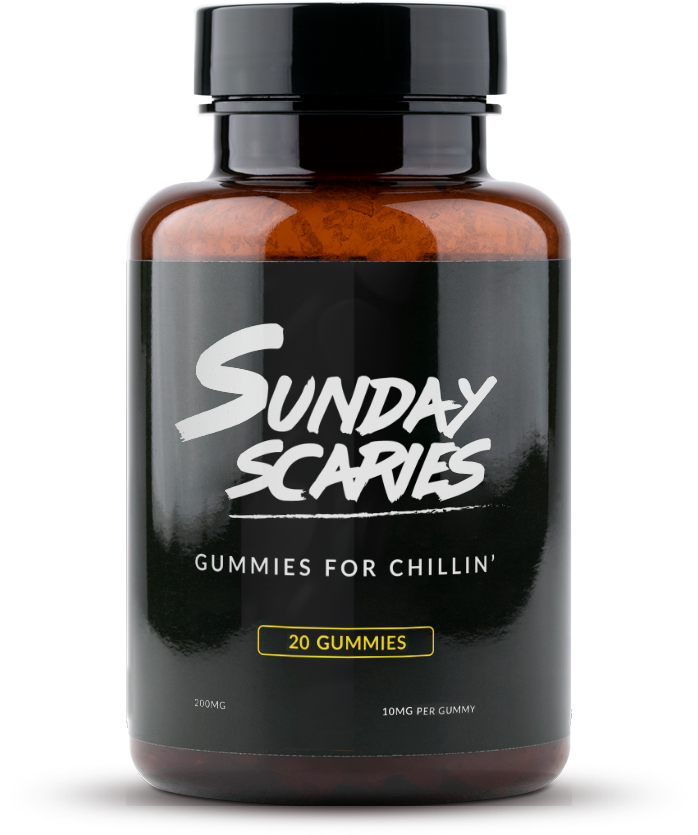 THE STRESS RELIEVER BLEND
Combat stress symptoms and lift self esteem (Add To Cart to find out more!)
Vitamin B12

THE ENERGY VITAMIN
Cobalamin. Helps with energy production and mood regulation | 120mcg (100% DV)
Vitamin D3
THE SUNSHINE VITAMIN
Cholecalciferol. Regulates neurotransmitters to help alleviate sadness | 200mcg (250% DV)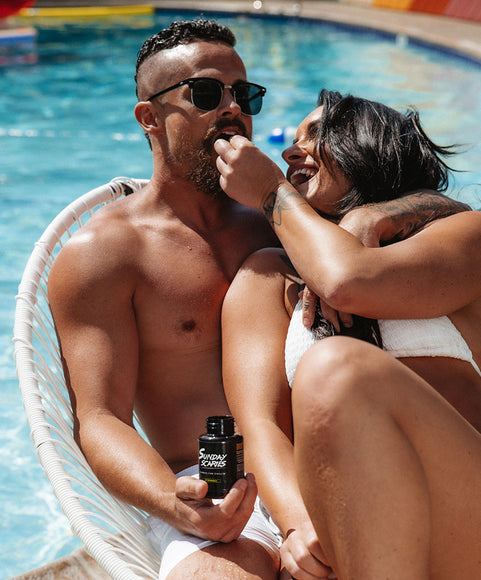 What's possible with Sunday Scaries?
8 ways your life will become more Scarefree>

Take Your Sundays Back - Own the Weekend

End the negative thought cycle in your head

Be aware and present during social situations

Work without angst for peak performance

Discover inner resilience to bounce back from challenges

Improve sleep quality so you can wake up refreshed & non-groggy

Cultivate a positive mindset on your path to personal growth

Find balance by savoring the joys outside of work
Start your Scarefree journey with our #1 ranked flagship product, Sunday Scaries Stress Relief Gummies
Buy 1 Bottle Mild Stress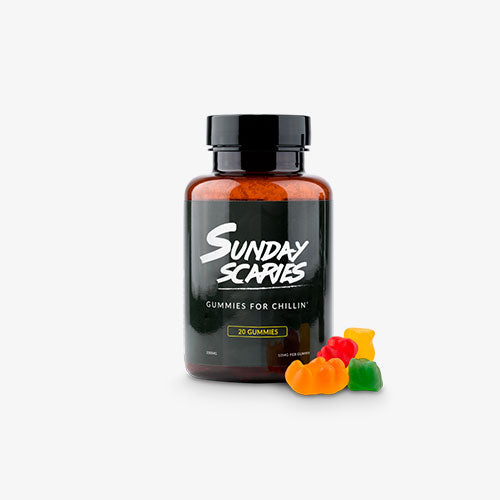 Subtotal: $29
100% Money Back Guarantee
 
Most Popular
Buy 2 Bottles + Get 1 FREE Medium Stress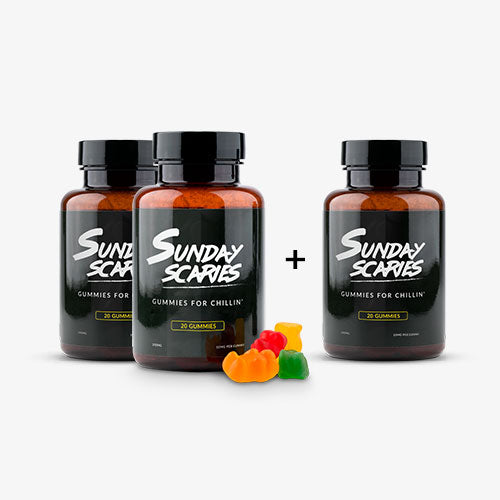 Subtotal: $58
100% Money Back Guarantee
FREE SHIPPING
Best Value
Buy 4 Bottles + Get 2 FREE High Stress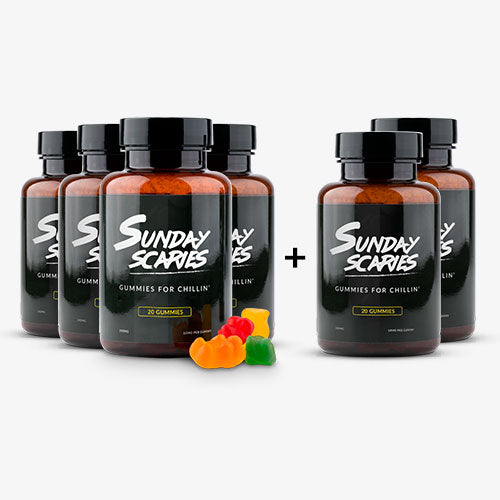 Subtotal: $116
100% Money Back Guarantee
FREE SHIPPING

We offer these deep discounts to first time customers because this is how confident we are that you'll be the best damn version of yourself after taking our products.

87% of our customers purchase again.
Scarefree Guarantee
Life is hard enough. We make things chill with our 100% money back guarantee.
P.S. - Did you just skip all the way to the bottom? Lol. It's all good, we get it. You're probably bogged down with work with notifications flying around and calendar invites approaching.
Here's everything you need to know:
Take just 2 gummies a day and we guarantee you'll Eliminate Stress, Take Your Weekends Back & Conquer the "Rat Race".
"Without needing to spend time meditating, journaling, or giving up on social media". 
You've probably tried these plus other things like Breathwork and Excessive boozing, only to find that they just "kinda worked" and you eventually stopped doing them because the real results weren't there. Those things are great, but you need some extra help.
We've been featured in hundreds of publications and have won awards from Best Products, Men's Health and Women's Health for being the "Best" or "Top" Stress Relief gummies of 2023. 
We have thousands of testimonials from verified buyers and 87% of customers come back to repurchase our products. 
DO NOT purchase stress relief gummies products from Amazon because they don't have 3rd party lab tests and do not contain the dosing they advertise. 
DO NOT purchase stress relief gummies products from other stress relief brands who claim to cure every ailment under the sun. Find out what specific issue you're trying to solve and buy from a company who focuses and formulates for that. 
Sunday Scaries are juicy Citrus & Fruit flavored gummy bears packed with a proprietary anti-stress Green Plant Full Spectrum Oil blend and boosted with vitamins.
We offer these deep discounts to first time customers because this is how confident we are that you'll be the best damn version of yourself after taking our products. 87% of our customers purchase again.
Frequently Asked Questions
Will I fail a drug test if I take these gummies?

Yes, you will fail. Our Full Spectrum blend contains a compound (add the product to cart to see what it is) that is within the legal <.3% threshold, but we advise against using these if you need to pass a drug test.
What does "Full Spectrum" mean?

Full spectrum means using all compounds of the plant. To find out the main ingredient in Sunday Scaries, click "ADD TO CART".
How many Sunday Scaries Stress Relief Gummies should I take?

We suggest taking 2 gummies daily or anytime you are feeling frustrated, overwhelmed or on the verge of tearing your own hair out. We intentionally formulated our Sunday Scaries gummies with 10mg per gummy so our Squad members can scale up incrementally. Everyone's physiologically different and the ingredients affects people in different ways, following the same premise as caffeine intake.
How long does it take for the Sunday Scaries Stress Relief Gummies to start working?

The onset of the effects takes about 20-30 minutes depending on how long you chew them in your mouth and how much food you have in your stomach.
What is your return policy?

If you are not satisfied with your Sunday Scaries Stress Relief Gummies you can let our customer service know and get a full refund with our 100% money back guarantee.