Each Dropper Contains
15mg Full Spectrum CBD
33mcg Vitamin B12
54 mcg Vitamin D3
Coconut Oil
500mg per bottle
Ingredients
MCT Oil, natural flavor, stevia.
Directions
Take a full dropper everyday to keep the scaries away.
Research suggests the effects of CBD are better felt taking the product daily for at least a month.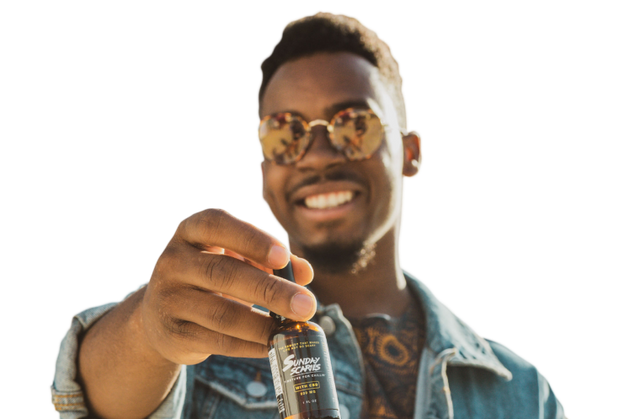 Reliable Certifications
At Sunday Scaries, all of our CBD raw materials are sourced from KND Labs in Denver, Colorado. KND Labs is a cGMP, ISO 9001:2015 and Active Pharmaceutical Ingredient (API) Certified supply chain partner of CBD ingredients for global consumer products.

Their pristine, state of the art facility ensures clean, consistent and reliable CBD throughout the supply chain, from soil to oil.
Lab Results
Click here for 3rd Party Lab Results, also known as Certificates of Analysis.
Reviews
Total 5 star reviews: 267
Total 4 star reviews: 40
Total 3 star reviews: 6
Total 2 star reviews: 0
Total 1 star reviews: 0
98%
would recommend this product
WOW!!!

My experience with Sunday Scaries has been phenomenal. Not only was this CBD oil exactly as advertised, the customer service is unmatched. I definitely put a firm stamp of approval on this company

A bit underwhelmed but could work for others

My girlfriend and I were a bit underwhelmed by the cbd oil. Maybe our expectations were too high, but we didn't get any feeling/sense of relaxation from this product. We were hoping it would mellow us out after long days of working in healthcare, but it didn't have any effect that we could notice even after using more. But that's not to say it won't work for others. As for flavor and ease of use, it is very enjoyable. The dropper is simple and the taste and scent is pretty enjoyable. We'll continue to use the rest of the bottle nightly since we already have it. Maybe we'll notice a change.

SS

Sunday Scaries

4 months ago

Oh no! We are sorry to hear you didn't have the experience you were expecting! We've sent you an email to get a few more details, and we will do our best to resolve the issue with your order. Best, Sunday Scary Squad

Cure for scary snake sightings :)

I saw a snake in my yard twice in one week and that really winds me up and freaks me out. Sunday Scaries were sitting in my cabinet and I put it to good use to calm me down both times so I could move on with my day. Thanks! I have tried other CBD products before, but I could actually tell a difference with this brand. If it weren't for Mr. Ballen's promo, I wouldn't know about you, so kudos to him too. :) God bless y'all
Reviews Loaded
Reviews Added
Frequently Asked Questions
Can CBD Oil help with anxiety?

While Sunday Scaries CBD oil can help you keep your composure and sweeten your outlook on life, anxiety is a medical condition and our products have not been evaluated by the FDA. Just like our CBD gummies, our CBD oil is not intended to diagnose, treat, cure or prevent any disease. Please do not replace your medications for anxiety with any of our products and consult a physician first if you are on medication.
What is the difference between CBD Oil and CBD Tincture?

While CBD oil and CBD tincture can be used interchangeably, there is a slight difference. CBD oil is the actual extract from the plant in its pure form. CBD tinctures are the liquid extracts combined with another oil or binding agent. CBD tinctures usually have a less concentration of pure CBD because the mixture is not diluted with the other ingredients.
How do I use CBD Oil?

Sunday Scaries CBD oil comes in a glass tincture bottle with a dropper (aka pipette) and you can dose incrementally depending on your desired effect. While you can drop the CBD oil in a water, tea or smoothie, you can also drop it under your tongue for fast absorption and keep it there for 30 seconds before swallowing. Let the chill commence.
Where can you buy CBD Oil?

While CBD oil can be found in a number of stores, the best place to buy CBD oil is online. When buying online, it's much easier to check the website of the seller and ensure they have positive reviews, reputable press mentions and third party lab tests. It's also worth seeing who is transparent enough to put their phone number on their website and if a human representative will be there to guide you in making your purchase. We can provide you with that service as well as sell you the best CBD oil on the market, here at sundayscaries.com
What makes Sunday Scaries the best CBD Oil?

Sunday Scaries CBD oil (tincture) is the best on the market because of the custom formulation with vitamins B12 and D3. The CBD itself is suspended in coconut oil and you can feel the effects almost instantly because the oil gets absorbed faster when administered sublingually. Beyond the efficacy of our CBD tincture, the oil itself tastes delicious and does not leave you with a medicinal, metallic or "hemp-like" aftertaste. We flavored it with a subtle and light fruit punch to allow you to consume it on it's own, or, add it to a water or tea without leaving an overpowering taste.
Why use CBD Oil?

Sunday Scaries CBD oil is the perfect product for those who want independent dosing at a higher milligram level. Our tincture will feel like a breath of fresh air, allowing you to decompress, quiet your mind and be a collected version of yourself. Our CBD oil is great for reading before bed, long plane rides, reducing agitation and chillaxing on a Sunday after a long weekend of partying. You'll see positive results instantly and they compound with greater effect over time with continued use.