Scarefree Guaranteed
Life is hard enough. We make things chill with our 100% money back guarantee.
CBD Raw Material Certifications
Check out our TV commercial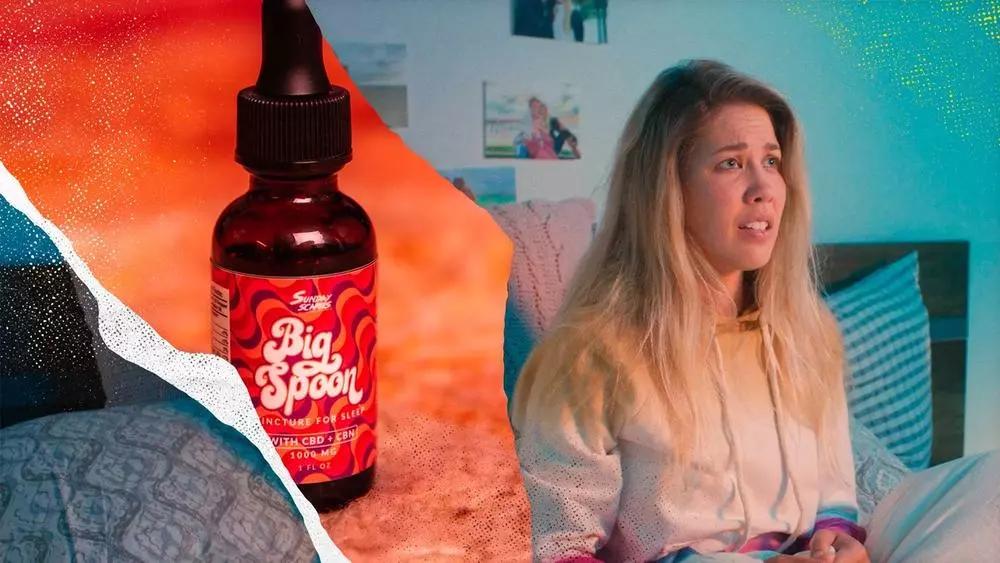 Reviews
Total 5 star reviews: 217
Total 4 star reviews: 30
Total 3 star reviews: 2
Total 2 star reviews: 1
Total 1 star reviews: 1
98%
would recommend this product
Customer-uploaded media carousel. Press left and right arrows to navigate. Press space or enter to open more details.
Slide 1 selected
Improves quality of sleep

Pleasantly surprised by this sleep oil. I haven't noticed a huge difference in my ability to fall asleep but I have noticed an improvement in the *quality* of my sleep, which is a win in my book!! Obviously, I prefer to sleep straight through the night so this is something I enjoy taking nightly! Definitely try this if you're wanting to improve the quality of your sleep.

Works Great

Tastes good and works great to help me fall asleep.

My favorite Sunday product

I've tried all their CBD products (minus the dog treats) and love them all, but this one takes the prize. I have cyclical periods of insomnia and this REALLY helps. Thank you Sunday Scaries! Worth every penny.

1st time

I actually got some sleep!

Got for sleep

I've taken CBD oil for anxiety and to help me calm my sleep brain. I don't really notice much, and was even wired for a few hours before I could sleep (1 night out of 3). Maybe I need something stronger?
Reviews Loaded
Reviews Added
Frequently Asked Questions
Does CBD Oil Help with Sleep?

While CBD oil holds potential to assist in improving sleep quality, it's important to note that comprehensive clinical studies on its effectiveness and proper dosing are still in progress. The U.S. National Library of Medicine's National Center for Biotechnology Information conducted an analysis on CBD's impact on anxiety and sleep, which displayed promising indications for its application. CBD's calming properties can contribute to a soothing and tranquil sensation, aiding in easing restlessness and promoting a more peaceful sleep. Although formal conclusions are still pending, many individuals find that CBD creates a sense of relaxation that can help quiet the mind for a restful night's sleep. In contrast to some over-the-counter sleep products that may lead to groggy mornings, our CBD Sleep Oil, "Big Spoon," offers a custom formulation designed to provide a comforting and warm embrace, like being cradled as a little spoon. Waking up refreshed without that "cotton ball" feeling in your head overnight is our goal. As research progresses, CBD's potential in fostering quality sleep continues to be explored, offering a potential avenue for those seeking a peaceful night's rest.
When Should I Take CBD Oil for Sleep?

Timing matters when it comes to using CBD Sleep Oil, especially if you're aiming for a restful slumber. Designed to help you unwind after a taxing day and find solace, CBD Sleep Oil is a potential ally in combating modern-day stressors that often lead to restless nights. Since everyone's physiological response to CBD varies, determining the best time to take CBD Sleep Oil requires a bit of time and experimentation. Users have noted that the timing is often linked to accurate dosing. Higher CBD intake can induce deep relaxation of both body and mind, while moderate amounts might just produce a relaxing, anti-stress feeling. For optimal sleep results, taking CBD Sleep Oil approximately 1 hour every night before bedtime is recommended. However, the effects could potentially set in as swiftly as 30 minutes after consumption. Infused with ingredients like 5-HTP, Chamomile, GABA, L-Theanine, Lemon Balm, and Valerian Root, CBD Sleep Oil promotes a healthy sleep pattern. Remember, your CBD journey is unique, so consider consulting a healthcare professional as you explore the perfect timing for your rest-enhancing ritual.
How Much CBD Oil Should I Take for Sleep?

Determining the right CBD oil dosage for sleep involves considering various factors such as your weight, tolerance, and the specific CBD type you're using. In the realm of sleep-enhancing options, "Big Spoon" CBD Sleep Oil stands out by employing a Full Spectrum CBD oil complemented by the isolated CBN cannabinoid. This dynamic combination leverages the "entourage effect", where diverse cannabinoids collaboratively support each other's potential benefits. Similar to how coffee intake is a personal experience, finding your ideal CBD sleep oil dosage is unique to you. Just as a single cup of joe might trigger jitters in one person while requiring three cups for another to feel its effects, CBD can also vary in its impact. A prudent approach is to begin by placing a full dropper (1 ml) of CBD Sleep Oil under your tongue and experiencing the calming influence it offers. As needed, you can gradually increase the dosage up to two full droppers for desired results, a process akin to discovering your perfect morning coffee strength. Keep in mind that the journey towards an ideal CBD sleep oil dosage is a gradual exploration. Similar to how individual coffee preferences evolve, your CBD needs may change over time. Consulting a healthcare professional as you embark on this journey can provide valuable insights tailored to your well-being. With "Big Spoon" CBD Sleep Oil, you're taking a step towards fostering a serene sleep environment that resonates with your unique needs.
How to Take CBD Oil for Sleep?

When it comes to enhancing your sleep quality with CBD, the sublingual method is your ally. CBD Sleep Oil, exemplified by "Big Spoon," finds its optimal absorption when taken sublingually – meaning you place it under your tongue. With its delightful vanilla cream flavor, "Big Spoon" is tailor-made for bedtime indulgence. For a peaceful prelude to sleep, you have a couple of delightful options. Drop a full dropper of CBD Sleep Oil under your tongue an hour before retiring to bed. This method capitalizes on swift absorption. Alternatively, you can infuse your water, tea, or even your favorite pint of ice cream with the sleep oil. We understand that cravings for something sweet sneak up, particularly on serene Sunday nights. When utilizing the sublingual approach, pause for a moment with the oil under your tongue. Let it linger for a few seconds to ensure optimal absorption before you swallow. Not only does "Big Spoon" taste heavenly, but it also offers a delightful sensation – more of a treat than a task. As you embrace the soothing touch of "Big Spoon," remember that everyone's journey with CBD is unique. Exploring the realm of CBD Sleep Oil is about discovering what resonates best with your sleep ritual. If you're seeking professional insights, consulting a healthcare expert can guide you towards a serene slumber.
What Is The difference between CBD and THC for Sleep?

Sleep can be a tricky game – some struggle to fall asleep, while others wrestle with staying asleep. In the realm of sleep aid, CBD and THC have garnered attention, but the choice between them is a matter of personal experience and preference. Here's where Sunday Scaries CBD Sleep Oil steps in to cater to your sleep needs. Both CBD and THC are rumored to assist with sleep, yet the distinction between them boils down to individual inclination. THC, while offering potential sleep support, can also trigger side effects like paranoia and heightened alertness. If the idea of experiencing psychoactive effects (that "high" feeling) isn't your cup of tea, THC might not be the right choice for you. Enter CBD – the calm-inducing, composure-preserving companion. Sunday Scaries products are meticulously crafted with CBD as the star ingredient. But here's where the magic kicks up a notch – Big Spoon, our CBD Sleep Oil, is enriched with CBN for an added layer of relaxation. Unlike THC, CBN doesn't send you rocketing into outer space; instead, it helps quiet those racing thoughts and guides you gently into the realm of dreams. So, if you're seeking tranquil nights without nightly interruptions, Big Spoon's CBD and CBN blend is here to make sleep struggles a thing of the past. No paranoia, no space travel – just serene sleep that leaves you refreshed and ready to conquer the day.
What is CBN?

CBN, which stands for Cannabinol, is a lesser-known cannabinoid found amidst the 120-plus beneficial cannabinoids within the cannabis plant. While CBN's potential sleep-improving effects have sparked curiosity, further research is required to firmly establish its impact. Interestingly, CBN is a byproduct of THC that emerges through oxidation, particularly when exposed to high temperatures. A 2011 study published in the British Pharmacological Society Journals shed light on the sedative properties of CBN and other cannabinoids. Now, here's where the magic happens in relation to Sunday Scaries CBD Sleep Oil – CBN is an integral component that elevates its effectiveness. Our CBD Sleep Oil, affectionately known as Big Spoon, harnesses the potential relaxation and tranquility that CBN can offer. However, it's essential to remember that CBN and Big Spoon are not intended for diagnosing, treating, curing, or preventing any illnesses. Prior to consumption, it's advisable to consult your healthcare professional to ensure a tailored and safe experience.
Will CBD Sleep Oil Make Me Fail a Drug Test?

The potential of CBD Sleep Oil, containing Full Spectrum CBD, leading to a failed drug test depends on a few key factors. Full Spectrum CBD products like our CBD Sleep Oil contain a range of beneficial compounds found in the cannabis plant, including trace amounts of THC (below the legal 0.3%). While these levels are typically minimal, they might be detectable on sensitive drug tests. Although the likelihood of failing a drug test due to Full Spectrum CBD is generally considered low, it's crucial to be informed and we recommend that you DO NOT take our sleep oil if you need to take a drug test.