Each Gummy Contains
25mg Extra Strength Full Spectrum CBD
20 Gummies per bottle
Ingredients
Tapioca Syrup, Purified Water, Gelatin, Cane Sugar, Citric Acid, Apple Juice From Concentrate, Sodium Citrate, Natural and Artificial Flavors, Natural and Artificial Colors, Coconut Oil and Carnauba Wax.
Flavors
Orange - Orange
Red - Cherry
Green - Apple
Yellow - Lemon
Directions
Take 2 gummies everyday to keep the scaries away.
Research suggests the effects of CBD are better felt taking the product daily for at least a month.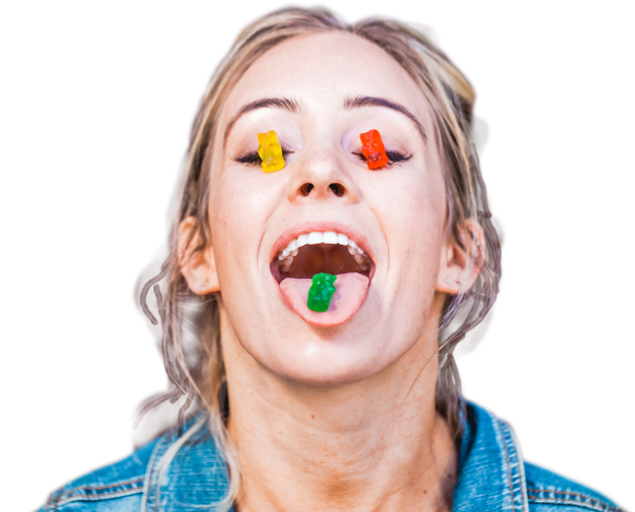 Reliable Certifications
At Sunday Scaries, all of our CBD raw materials are sourced from KND Labs in Denver, Colorado. KND Labs is a cGMP, ISO 9001:2015 and Active Pharmaceutical Ingredient (API) Certified supply chain partner of CBD ingredients for global consumer products.

Their pristine, state of the art facility ensures clean, consistent and reliable CBD throughout the supply chain, from soil to oil.
Lab Results
Click here for 3rd Party Lab Results, also known as Certificates of Analysis.
Reviews
Total 5 star reviews: 45
Total 4 star reviews: 9
Total 3 star reviews: 2
Total 2 star reviews: 2
Total 1 star reviews: 1
92%
would recommend this product
Great if you've been diagnosed with anxiety

Love these. With my doctor's not only permission but also encouragement I started taking the extra strength gummies in place of my prescribed Xanax. Not all at once but slowly because I tried to stop in the past but would get awful insomnia. These gummies keep the insomnia away and actually help me not reach for Xanax every time I'm stressed. Plus the gummies from my perspective are not habit forming so if I am having a super anxious day I take a couple, if not I don't think about it. Much better than being dependent on anti anxiety meds.

They help

I got these for anxiety but then found they also help with esophageal spasms! Almost immediately after eating every time, very pleased. Mind blown

Calming Effect

I take these gummies every morning before work to calm me down. Any stress that comes my way is manageable with these gummies. I highly recommend them!

Relaxed

Enjoy taking them at night for a true wind down

Works

Its that simple. These work. I had never taken cbd before. I took 1/2 gummy to see how it affected me as I was anxious about a health situation. It relieved my stress within an hour up to 8 hours allowing me to get my s*** together and eat. Easy to spiral into anxiety with the way our minds play different worse-case scenarios.

The one half calmed me down.

I would only improve these by no corn syrup and no artificial colors. If that isnt a concern of yours, go for it!
Reviews Loaded
Reviews Added
Frequently Asked Questions
How much CBD should I take?

For beginners, a great way to take CBD is to start with 10 to 20 mg per day and then scale up afterwards depending on your reaction. We offer our regular Sunday Scaries CBD gummies for this exact purpose, it's our introductory product. For those who are looking for an extra dose and to really kick the stress monster's ass, take Sunday Scaries Extra Strength with the heightened efficacy.
What is the difference between Sunday Scaries Extra Strength CBD gummies and the regular CBD gummies?

Sunday Scaries Extra Strength offers a 25 mg dosing per gummy. Also, in our regular CBD gummies we have added vitamins D3 and B12 to help boost the effects. For Extra Strength, the concentration with regards to formulation was solely on the CBD raw materials, and we used a proprietary broad spectrum oil blend with added minor cannabinoids such as CBG and CBN. These minors help amplify the anti-stress characteristics in this product.
How long should I feel the effects of the Extra Strength gummies?

The onset after taking the gummies happens in about 15-30 minutes. You should feel a light sense of relief which can help you overcome your overwhelming day. The effects should last 4-5 hours, but it is important to remember that there are no "high" effects from taking CBD. It is better used as a daily supplement and you often can assess how much it's contributing to your daily routine after you stop taking the product. Daily and continued use leads to the best effects for CBD.