LIFE CAN BE SCARY
WE WANT EVERYONE TO MELLOW OUT, HAVE FUN, AND FEEL SELF-CONFIDENT.
THE SCARIES ARE REAL
In modern day society stress comes at an all time high. Work pressure, social expectations and information overload are ever-present.

These outside forces cause us to have negative thoughts that lead to self-doubt. But this internal darkness shouldn't be allowed to consume us.
WHAT ARE SUNDAY SCARIES?
MEET YOUR GUIDES
We're Beau and Mike and we feel your pain. We understand how isolation feels, nobody should have to experience that. We've been through really tough times and we know how to deal with life's worst moments.

Everybody deserves a hand on a difficult day and a fair shot at a Scarefree life. That's exactly what we provide - with laughter, with CBD and any other way we can.
COOL STORY, BUT WHAT'S THE PLAN?
We get it, the CBD industry is brand spanking new and purchasing products can be confusing and stressful. Luckily we have a plan to make you feel confident in your purchase. This is the way it should be, why not give us a shot?
Same Day
Shipping
100% Money Back
Guarantee
Human Customer
Service
CHECK OUT OUR TV COMMERCIAL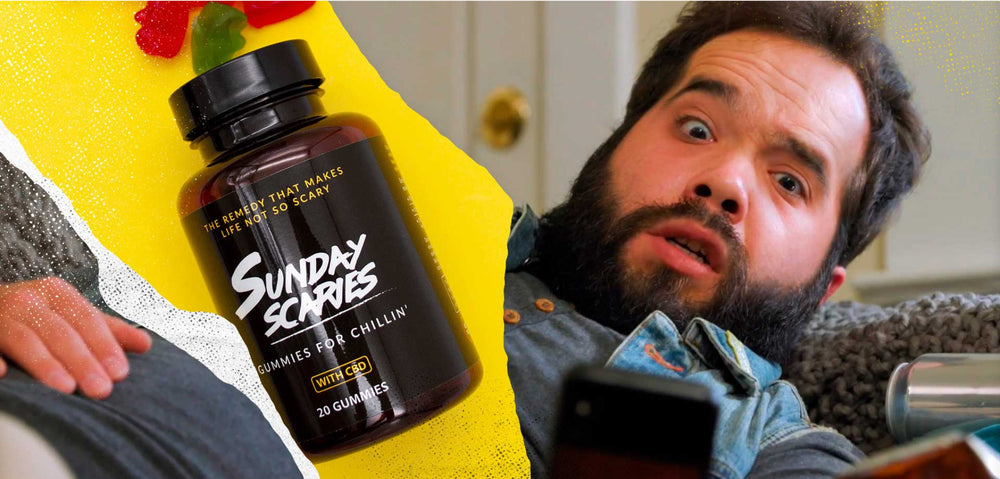 AVOID WORRY, LIVE IN THE MOMENT
BE THE BEST VERSION OF YOURSELF.
How big of a problem is "Sunday Scaries"?

Beau: Sunday Scaries is a nationwide problem. In fact, according to research conducted by LinkedIn: 80% of professionals experience the Sunday Scaries and over 90% for both Millennials and Gen Z stated they felt them. The Sunday Scaries are a phenomenon because many people suffer from them but don't necessarily understand how to put a name to the feeling they are having.
How strong is the need for Sunday Scaries' products?

Mike: There is a huge need for Sunday Scaries products.The Sleep Judge conducted a survey with over 1,000 people to get a gauge about the apprehension they feel as their weekends come to a close. 81% of the respondents experienced heightened levels of stress on Sunday in anticipation of Monday and the work week that ensues. This anticipation prevents people from living in the moment and enjoying the time they actually have off. We're not only trying to help you de-stress in general, but also help you take your Sundays back. And we have the products to do just that.
Can I cure the "Sunday Scaries" myself?

Beau: While we're all about being independent and self-reliant, the reality is that we've all got our own battles. That shouldn't mean we have to fight them alone though. This is life, not a Rambo movie. Beyond custom formulating our CBD products in order to cure the Sunday Scaries, we are also dedicated to de-stigmatizing stress, promoting mental health awareness and creating a community that you can rely on to help you live confidently and feel included.
How will my life improve by taking your products?

Mike: Your life will improve drastically by taking Sunday Scaries CBD products. Rather than having negative thoughts jam up your mind like fender benders at traffic hour, Sunday Scaries will help you get out of your own head and concentrate on what really matters in your life. When taking our products religiously you'll feel self-confident, without the need to fix how you are or prove yourself on a consistent basis. If you decide to take on your inner demons without the support of Sunday Scaries you'll probably feel vulnerable and overwhelmed. There's a helping hand reaching out to you… reach back.
Why are you in this business, beyond making money?

Mike: We are in this business because we know how it feels dealing with internal darkness. We want to keep people laughing and protect others from that shitty feeling that we used to feel. The ability to help others makes us happy, and what we're creating does just that. It's a win-win. We are in this business because we want to help you eliminate your self-doubt and feel confident every single day. It's working for others, so why wouldn't it work for you? The warmer the testimonials, the warmer we feel and every day we're seeing more and more of them. That's what keeps us going.
How do you want the world to change because of what you do?

Beau: We want people to get out of their own heads and live their lives Scarefree. We encourage others to shed what doesn't serve them and to laugh at the absurdities of life. We're advocates of not just sitting around and waiting for better times, but instead making them happen ourselves. The risk of not taking action is being stagnant and continuing to feel nervous and not in control of what happens around you. Being accepting of life situations is the key and this self-realization will lead you to being the best version of yourself. We're here to help remind you to chill out. You got this.