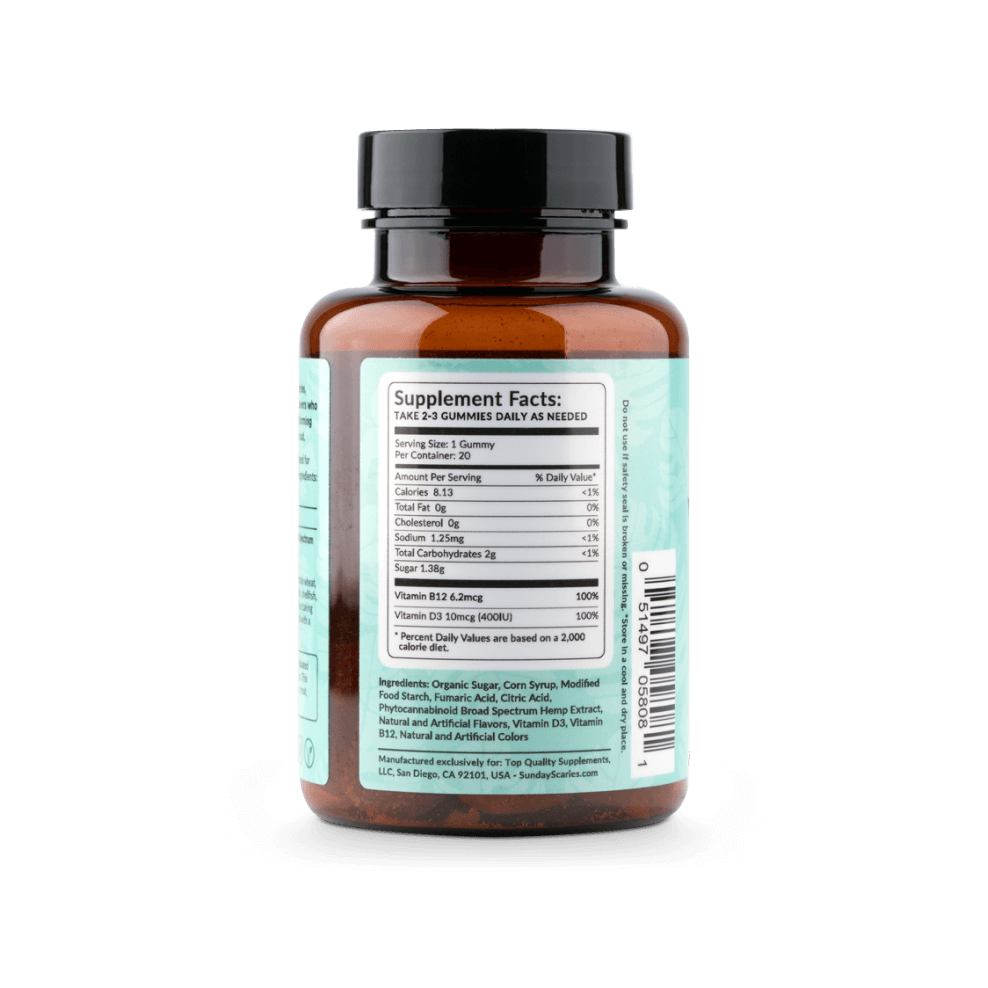 Scarefree Guaranteed
Life is hard enough. We make things chill with our 100% money back guarantee.
CBD Raw Material Certifications
Check out our TV commercial
Reviews
Total 5 star reviews: 273
Total 4 star reviews: 35
Total 3 star reviews: 7
Total 2 star reviews: 1
Total 1 star reviews: 0
97%
would recommend this product
RP

Taste Yummy-Takes the Edge Off

I like these for occasional stress or sleeplessness. Some may barely notice their affect, but that's what I like… quietly taking the edge off. They taste great, without any yucky after taste! They arrive quickly & I feel the safety standards are right on point.

Daytime help

They seem to take the edge off during the day, but are no substitute for Unicorn Jerky for sleeping.

COOL, CALM & COLLECTED

These gummies help to keep me on an even keel during the day and at bedtime.

Thanks so much my Chill Team!

Amazing

This stuff is awesome, but it now!

Best gummies

The best gummies and I have tried a lot! They taste good too!
Reviews Loaded
Reviews Added
Frequently Asked Questions
Can Vegan CBD Gummies Help with Anxiety?

Vegan CBD gummies can assist in managing stress levels. CBD, a compound derived from the cannabis plant, has shown promise in promoting relaxation and reducing stress-related symptoms. Vegan CBD gummies offer the added advantage of being plant-based, appealing to those who prioritize ethical and dietary considerations. While individual responses to CBD vary, many people have reported experiencing a sense of calmness and reduced worry after incorporating CBD into their routine. Remember that it's essential to choose high-quality, reputable Vegan CBD gummies and to consult a healthcare professional if you have any concerns or questions about using CBD for anxiety. It's important to note that these statements and products mentioned here have not been evaluated by the Food and Drug Administration (FDA). We are still anxiously anticipating the FDA to regulate CBD as a dietary supplement, and we are optimistic about future studies on how CBD can treat anxiety. For the time being, these products are not intended to diagnose, treat, cure, or prevent any disease.
What Are The Health Benefits of Vegan CBD?

Vegan CBD, derived from the cannabis plant, offers a range of potential health benefits. While research is ongoing and individual responses can vary, many users have reported experiencing various positive effects. These potential benefits include relaxation, stress reduction, improved sleep quality, and management of discomfort. Vegan CBD's interaction with the body's endocannabinoid system contribute to these effects. Vegan AF Vegan CBD Gummies are cruelty-free and contain no gelatin or animal byproducts. They are also vegetarian, soy free, dairy free and pesticide free which all add to the positive health benefits of this product.
Can Vegan CBD gummies Get Me High?

No, Vegan CBD Gummies cannot get you high considering they are non-psychoactive. While they are made from Full Spectrum CBD and contain traces of THC (less than the legal 0.3% threshold), the amounts are not large enough to produce a "high" sensation or any form of alteration. Given that the Vegan CBD Gummies are Full Spectrum, it is advisable that you DO NOT consume this product if you need to take a drug test. These Vegan CBD gummies are formulated to offer positive health benefits to counteract high stress levels, without inducing a feeling of being high.
Why Use Vegan CBD Gummies?

Opting for vegan CBD gummies can offer a host of advantages. Firstly, these gummies are plant-based, making them suitable for those following a vegan lifestyle while also aligning with ethical dietary choices. They're also vegetarian-friendly! Moreover, Vegan CBD gummies harness the potential health benefits of CBD, a compound derived from the cannabis plant. These benefits may include relaxation, stress reduction, improved sleep quality, and managing discomfort. Additionally, choosing vegan CBD gummies ensures you're consuming a product that's free from animal-derived ingredients. They're great to take before yoga, meditating, reading, gardening in the backyard, laying out by the pool, or dealing with noise from construction on a Sunday morning.
What Is The Difference Between Vegan CBD gummies and Regular CBD Gummies?

The primary difference between vegan CBD gummies and regular CBD gummies lies in their ingredients and production process. Vegan CBD gummies are formulated without any animal-derived components, making them suitable for individuals following a vegan or vegetarian lifestyle. We use plant-based ingredients and alternatives to animal-derived gelatin, ensuring they align with ethical and dietary preferences. In contrast, regular CBD gummies contain ingredients like beef gelatin, which is derived from animal sources. These gummies may not be suitable for those who avoid animal products due to dietary, cultural, or ethical reasons. Both types of CBD gummies contain CBD extracts and offer potential therapeutic benefits, but the choice between them depends on individual preferences and dietary restrictions. If you're looking for a cruelty-free and plant-based option, vegan CBD gummies provide an alternative that supports your lifestyle while still harnessing the potential benefits of CBD.