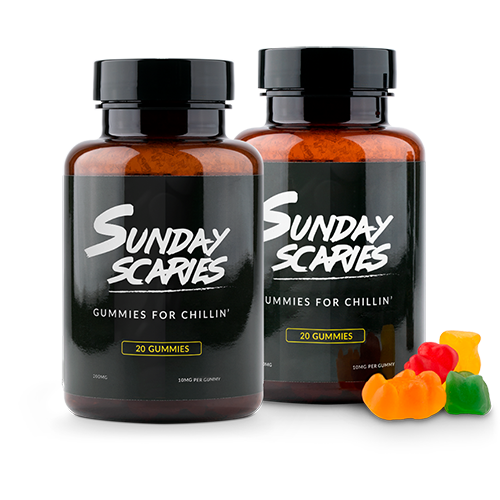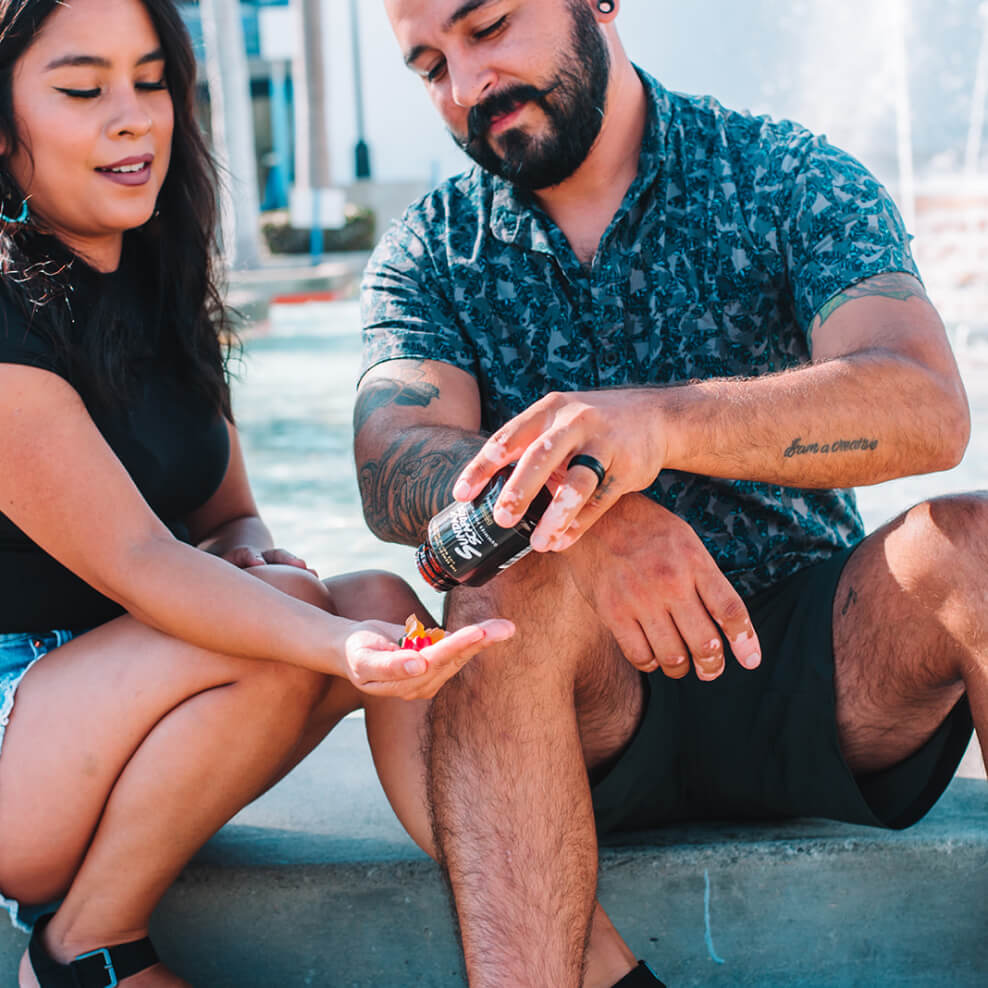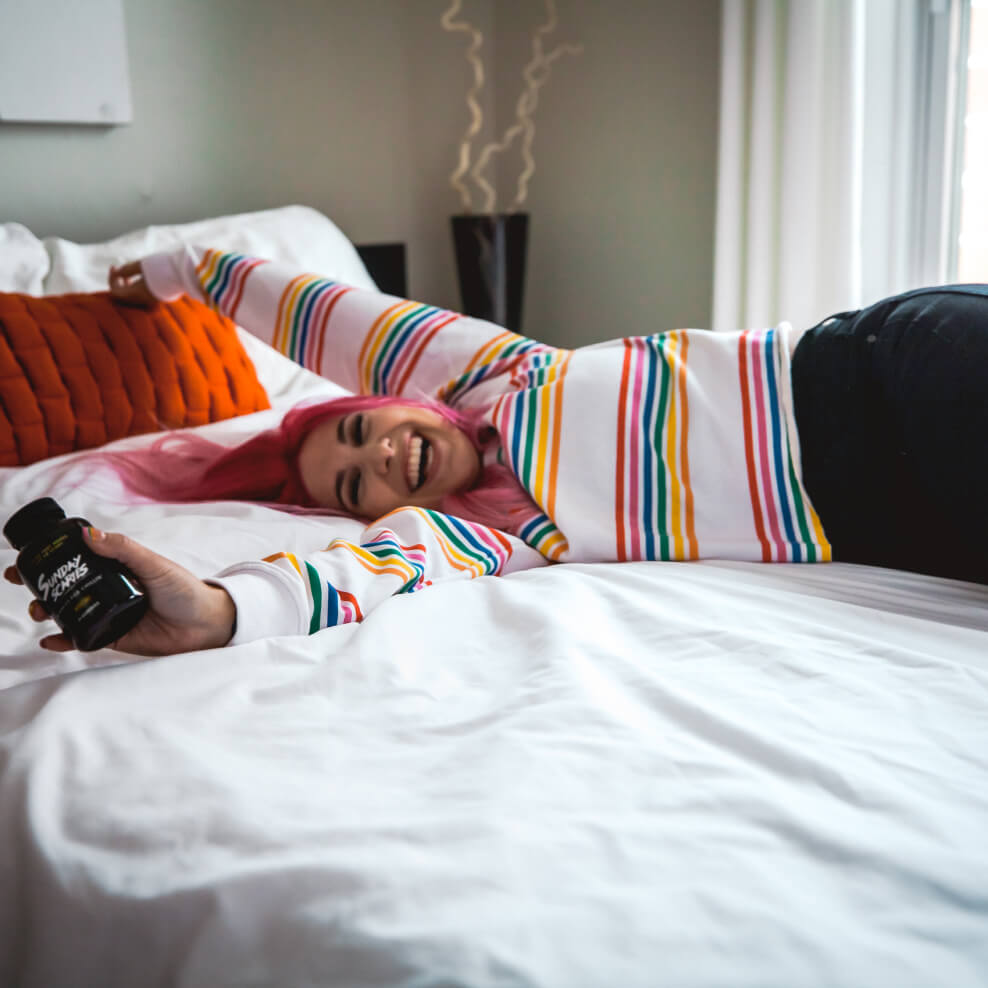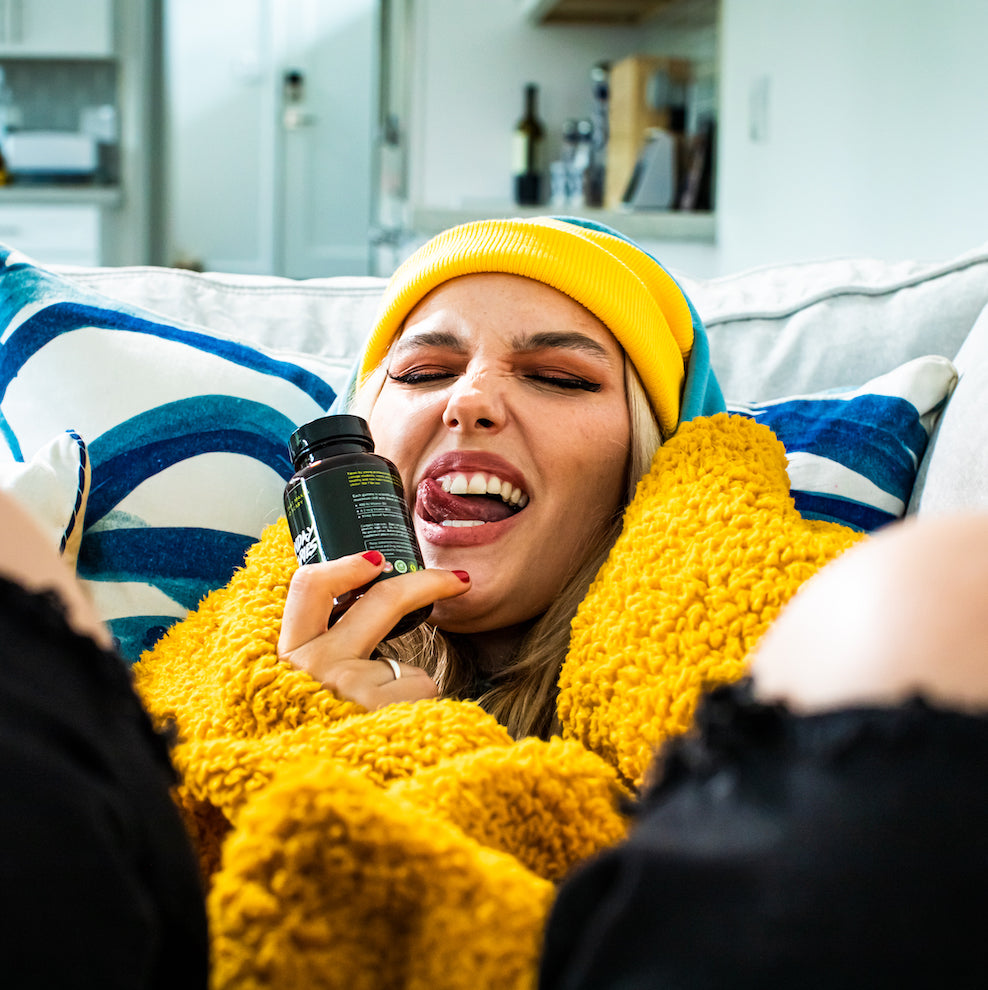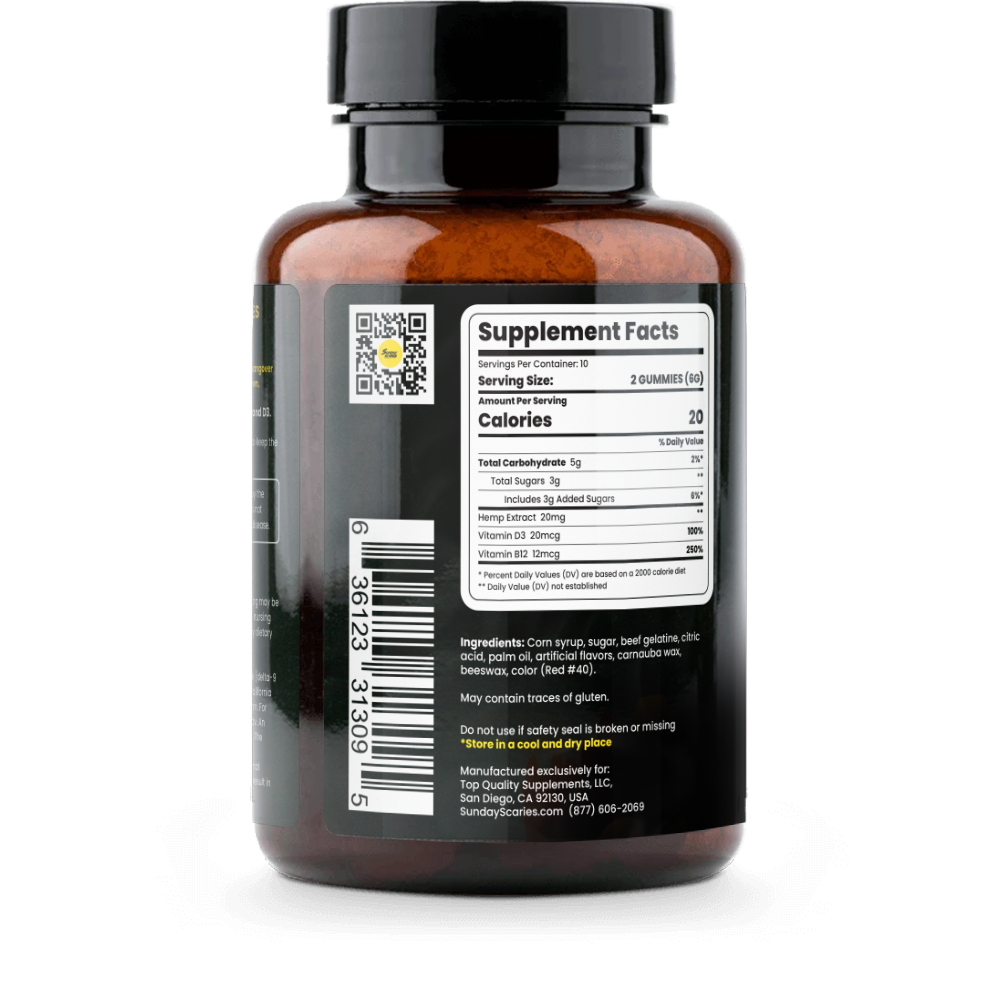 Scarefree Guaranteed
Life is hard enough. We make things chill with our 100% money back guarantee.
CBD Raw Material Certifications
Check out our TV commercial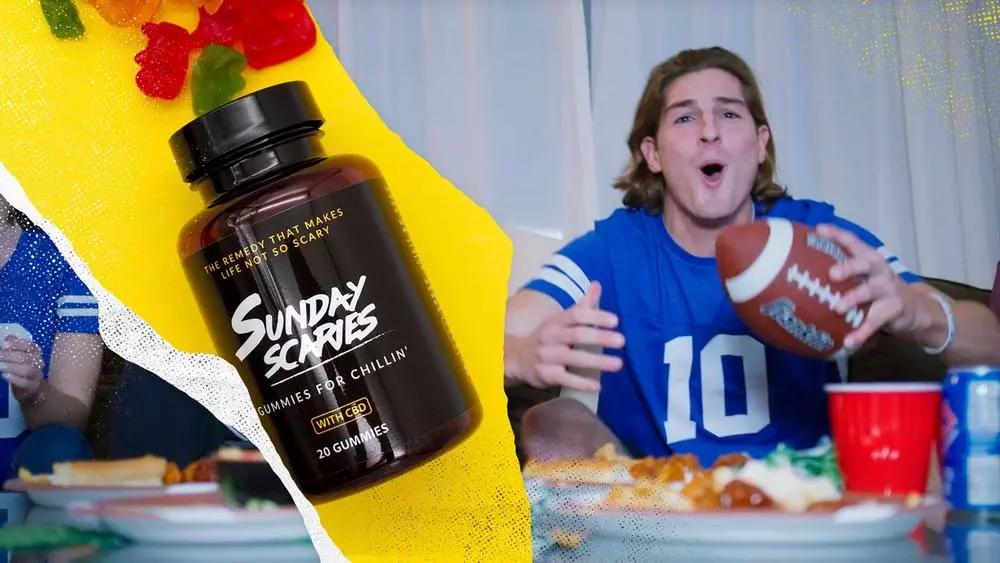 Frequently Asked Questions
Can you give me the full breakdown on your CBD Gummies?

Sunday Scaries are the best selling CBD gummy bears formulated to relieve stress, eliminate your moral hangover and avoid having a nervous freaking breakdown. While you'll no longer fear Mondays, they support a relaxed, focused and on-track vibe no matter what day of the week it is. Each bottle contains 20 gummy bears with 10mg of full spectrum CBD per gummy plus the added benefits of vitamins B12 & D3. Not to brush our shoulders off too much but Sunday Scaries have been ranked the best CBD gummies in Forbes, Healthline, Discover Magazine, Best Products, Cosmopolitan and many more since 2017. Believe the hype.
Do CBD Gummies for anxiety actually work?

While Sunday Scaries CBD gummies provide a cool, calm sense of relief they are not intended to diagnose, treat, cure or prevent any disease. Since cannabis has been bastardized since the Marihuana Tax Act of 1937, there has been a significant lack of studies due to its legal status. Although, there are some reports that exist from the World Health Organization as well as the US National Library of Medicine - National Institute of Health that go into some detail about the safety and efficacy of CBD. We are stoked for FDA regulations in our industry to get established and for more information to come out regarding the effects of CBD for anxiety. Until then, we're not doctors so please consult your physician with the treatment of any medical condition, including anxiety.
Do CBD Gummies for sleep actually work?

Sunday Scaries CBD gummies can encourage a better sleep because they enable your mind to stop racing at night and allow you to decompress and get out of your own head. CBD gummies are perfect to take right before bed time so you can unwind and allow yourself to enter a deep sleep. Just like CBD gummies for anxiety, CBD gummies for sleep still need to undergo clinical trials and there are a lot of studies that need to occur outlining the effects. While the National Institute on Drug Abuse and National Library of Medicine - National Center for Biotechnology Information do showcase some information on the safety and efficacy of CBD, it's still important to consult your doctor with the treatment of any condition, including insomnia.
Can you buy CBD Gummies on Amazon?

Do not trust the CBD products on Amazon. A ton of "hemp" products will populate when you search for CBD gummies but many of them are from companies that are not credible, have inconsistent or falsely advertised dosing, and may not be safe to consume. These illegitimate companies give the entire industry a bad look, and that's why we feel full transparency is key. We keep it 100, that's how we roll. If you want CBD oil gummies that are made in the USA and lab tested then avoid Amazon altogether or ensure you've done your research on the company behind the product. If you avoid Amazon, try buying Sunday Scaries CBD gummies. You will be sent tasty and effective CBD gummies, fun inserts to make you laugh and you'll be geared up to win potential prizes. We offer a 100% money-back guarantee without the Amazon hassles so there is no risk in purchasing.
How many CBD Gummies should I eat?

We suggest taking 2-3 gummies anytime you are feeling frustrated, overwhelmed or on the verge of tearing your own hair out. We intentionally formulated our Sunday Scaries CBD gummies with 10mg per gummy so our Squad members can scale up incrementally. Everyone's physiologically different and CBD affects people in different ways, following the same premise as caffeine intake. Also, how many gummies you take can depend on what your desired effects are. For example, if you are kinda stressed from getting stuck in Monday morning traffic then you may want to take 2 gummies. But if you're stressed tf out because your student debt keeps haunting you then 3 might be the answer for your woes.
What are CBD Gummies?

CBD gummies are gelatin or pectin-based jelly candies that are infused with cannabidiol oil, which is the therapeutic compound found in the cannabis plant. While CBD gummies have been trending in mainstream media and are now widely available, not all CBD gummies are created equal. Some CBD gummies are inconsistently sprayed with CBD instead of going through a formulation process with a legitimate manufacturer and infused. Some CBD gummies are also made with CBD isolate instead of full spectrum CBD, which does not allow the full plant theory or entourage effect to occur. Sunday Scaries sells broad spectrum CBD gummies infused with vitamins B12 & D3 so you get the full chill effect of the CBD while balancing out your mood and warding off negative thinking.
How long do CBD Gummies take to start working?

The onset of the effects from Sunday Scaries CBD gummies takes about 20-30 minutes depending on how long you chew them in your mouth and how much food you have in your stomach. Patience you must have, my young Padawan. Before swallowing the CBD gummies and allowing the CBD to hit your digestive system you can accelerate the effects by allowing the chewed up gummies to sit under your tongue so that the CBD is absorbed sublingually. Say that perfectly 5 times fast and the CBD will probably work before you're able to. Fortunately, Sunday Scaries CBD gummies are infused with vitamins B12 and D3 which can help increase the bioavailability of the CBD and increase your mood while the CBD sets in and does it's work.
How long do CBD Gummies last?

When discussing how long Sunday Scaries CBD gummies last it's important to try and not think about them like your stoner friend's edibles she made in her Mom's kitchen. With our consistency you'll know what kind of efficacy to expect in every gummy and considering CBD is non-psychoactive you won't be rocking back and forth under your covers regretting eating them. CBD gummies provide a calm, chill sensation or feeling of relief and our recommended dose can last up to 4 hours. That being said, because they relax you it's highly possible you won't just start stressing again once the 4 hours is up. Instead you'll probably be in the right mindset to live your best life, Scarefree. The continual use of CBD also compounds the effectiveness. So the more you use Sunday Scaries the better the calming effects will be and you'll start to see continual improvement in your overall health and wellness.
Do CBD Gummies work for hangovers?

Sunday Scaries CBD gummies work for hangovers and can help you alleviate your self doubt and make you feel less isolated after a series of weekend shenanigans. While the term "hangxiety" is used often to describe your state of mind after partying or staying out late, it can still be viewed as a medical claim and is not something we endorse. Although, we encourage you to mellow out and show yourself some self-compassion after a night out partying. We get it, Hair of the dog works, but Sunday Scaries CBD gummies will probably be a better solution than more alcohol. At the end of the day, you deserve to have some fun every once in a while so take a deep breath and don't beat yourself up.
What makes Sunday Scaries the best CBD Gummies?

We're just rad, ok! But seriously though, Sunday Scaries are the best cbd gummies because unlike other CBD brands who get a lot of their CBD oil from China and other sources with loose regulatory requirements, our CBD is sourced directly from farms in the USA and grown in accordance with the 2018 Farm Bill. Our CBD gummies are infused, not sprayed, and we're so confident you'll love the taste, texture and efficacy that we offer a 100% money-back guarantee. And let's be real. In an industry filled with a ton of "CBD-this" or "CBD-that" brands we carry a fun vibe with a cool personality. We're here to build a wellness community and include you on our path to chilldom. We're different for all the best reasons, and we're proud of that.