Scarefree Guaranteed
Life is hard enough. We make things chill with our 100% money back guarantee.
CBD Raw Material Certifications
Check out our TV commercial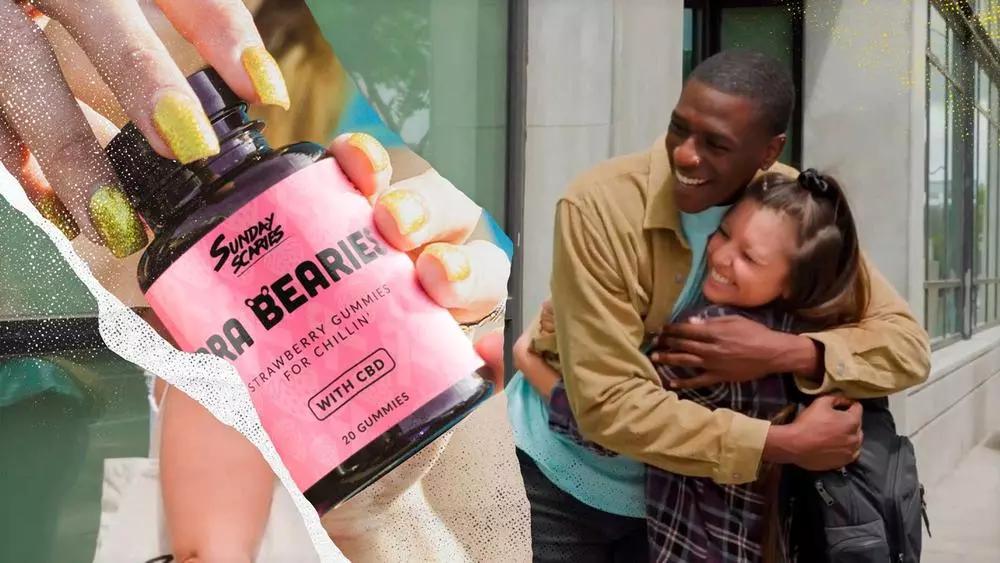 Reviews
Total 5 star reviews: 134
Total 4 star reviews: 19
Total 3 star reviews: 4
Total 2 star reviews: 0
Total 1 star reviews: 1
97%
would recommend this product
Great Product!

These work great! I take one anytime work is getting stressful and it chills me out and helps me focus

Yummiest one

In terms of flavor and texture, this one is 👑

Afternoons are calm

Just 1 in the afternoon gets me thru the "What's for dinner?" anxiety. Great taste. Nice texture.

Yummers! And the Customer Service is stellar too!

These gummies are super yummy, AND they help with my anxiety. Incredible. They arrived melted a few times (bummer) but Customer Service (shoutout to Princes!) was always on top of it and eager to help. I got my unmelted gummies quickly and painlessly and they're exactly what I wanted. Very dope and chill.
Reviews Loaded
Reviews Added
Frequently Asked Questions
Can Strawberry CBD Gummies Help with Anxiety?

Strawberry CBD gummies with added Vitamin C may offer potential benefits for stress relief. CBD (cannabidiol) is believed to interact with the body's endocannabinoid system, which plays a role in regulating mood and stress response. Vitamin C is known for its antioxidant properties, the promotion of focus & concentration and its role in supporting a healthy immune system. Combining CBD with Vitamin C in gummies could provide a synergistic effect that supports both mental well-being and overall health. As with any supplement, it's recommended to consult with a healthcare professional before incorporating Strawberry CBD gummies with Vitamin C into your routine, especially if you're seeking relief from anxiety. Their expertise can help determine if this combination aligns with your individual needs and health goals.
Can Strawberry CBD Gummies Enhance Focus and Concentration?

Yes, Strawberry CBD Gummies can contribute to enhanced focus and concentration. Beyond the calming effects of CBD, these gummies also contain Vitamin C, a nutrient known for its cognitive support properties. CBD's interaction with the endocannabinoid system can aid in promoting a sense of calmness and balance, which in turn might positively influence focus and concentration. Additionally, Vitamin C is recognized for its role in cognitive function and overall brain health. However, it's important to note that individual responses can vary. Before using Strawberry CBD Gummies as a tool to support focus and concentration, consulting with a healthcare professional is advisable. By combining the potential benefits of CBD and Vitamin C, you're potentially enhancing your cognitive well-being in a delightful and nutritious way.
Do These Strawberry CBD Gummies Contain THC?

As a Full Spectrum CBD product, these Strawberry CBD Gummies do contain trace amounts of THC, well within the legal limits set by regulations. The inclusion of various cannabinoids, including THC, contributes to what's known as the "entourage effect," enhancing the potential therapeutic benefits of the product. Rest assured, the THC content is minimal and non-intoxicating, ensuring you can enjoy the potential advantages of full spectrum CBD without experiencing a psychoactive high. That being said, you SHOULD NOT consume this product if you need to take a drug test.
Why Use Strawberry CBD Gummies with Vitamin C?

Incorporating Strawberry CBD Gummies enriched with Vitamin C offers a dual advantage for your well-being. Firstly, these gummies harness the potential benefits of CBD, which can contribute to relaxation, stress relief, and overall balance. Additionally, the inclusion of Vitamin C provides a cognitive boost. Vitamin C is renowned for its role in supporting cognitive function and promoting mental clarity. By combining the calming effects of CBD with the cognitive support of Vitamin C, you're creating a comprehensive approach to nurturing both your mind and body.
Why Are These Strawberry CBD Gummies called Bra Bearies?

We dubbed this product "Bra Bearies" because they are our ode to Breast Cancer Awareness. $2 of every bottle sold is donated to the breast cancer charity "The Pink Agenda". Instead of "straw", we put "bra" to support boobies and instead of "berries" we put "Bearies" since they are pink gummy bears. Get it?!