Scarefree Guaranteed
Life is hard enough. We make things chill with our 100% money back guarantee.
CBD Raw Material Certifications
Check out our TV commercial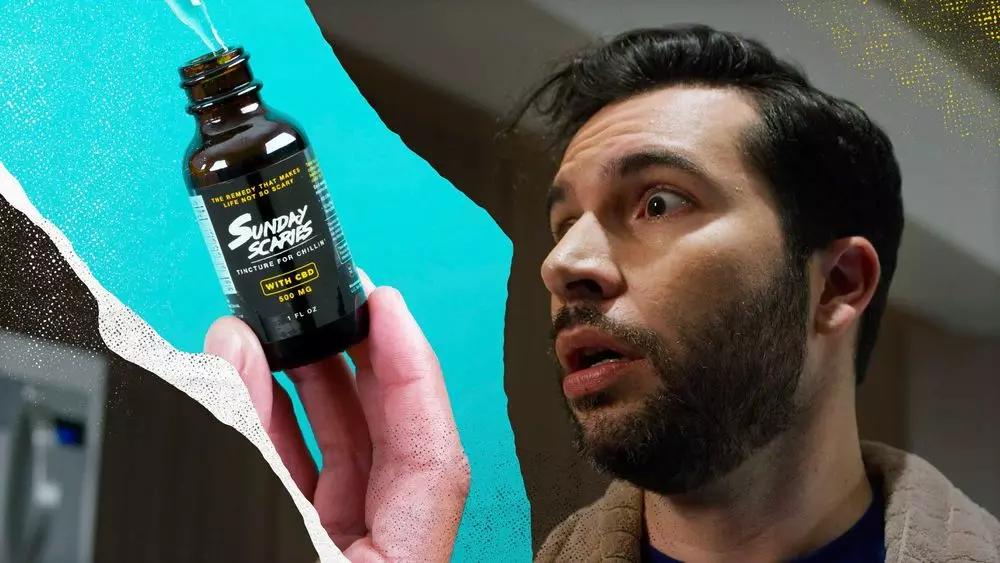 Reviews
Total 5 star reviews: 280
Total 4 star reviews: 42
Total 3 star reviews: 6
Total 2 star reviews: 0
Total 1 star reviews: 0
98%
would recommend this product
Customer-uploaded media carousel. Press left and right arrows to navigate. Press space or enter to open more details.
Slide 1 selected
It works!

Puts me in a relaxed mood any time of day!

CBD oil

I have tried other cbd oil, they all tasted bad! This one actually tastes good and the relax kicks in fast!

Love it!

This was my first time using CBD oil and I did a lot of research before choosing a brand. I'm very happy with this product so far and will definitely be subscribing.

Easy to take

I got this as a free gift with my order. I was pleasantly surprised by the flavor. I can't place what the flavor is, but it is good. Good taste is very important to me. Being an oil in a dropper, it is fast and easy to take some whenever I want to. I put in a subscription order for more.

PS You should proofread your answers to questions or reviews because answering the second question, you put that it ELEVATES stress rather than alleviate it. Oops.

I take this every night

I have trouble getting back to sleep at night when I wake up, but with this, I find that I go right back to sleep! I also take it during the day if I know I'll be faced with a lot of stress, and it seems to help!
Reviews Loaded
Reviews Added
Frequently Asked Questions
Can CBD Oil Help With Anxiety?

CBD oil has emerged as a potential tool in managing anxiety, although more studies need to be performed. The intricate dance between CBD and the body's endocannabinoid system holds promise in promoting a sense of calmness and balance, alleviating symptoms of stress. While individual experiences vary, many users have reported feeling a reduction in feelings of worry after incorporating CBD oil into their routine. However, it's important to tread with awareness – CBD isn't a universal solution. Consulting a healthcare professional is a wise step, ensuring CBD oil aligns with your wellness journey and any existing health considerations. By combining the potential benefits of CBD oil with mindfulness and expert guidance, you might just uncover a pathway to a more serene state of mind. It's crucial to know that these statements and products mentioned here have not been evaluated by the Food and Drug Administration (FDA). CBD products are not intended to diagnose, treat, cure, or prevent any disease. Although, we're optimistic that more studies will arise on the effects of CBD Oil and anxiety.
What Is The Difference Between CBD Oil and CBD Tincture?

The difference between CBD oil and CBD tincture lies in their composition and how they're consumed. CBD oil is a broad term that encompasses various CBD-infused liquids, while a CBD tincture specifically refers to a concentrated solution infused with CBD and alcohol or another solvent. CBD oil can be made with different carrier oils, such as coconut oil or hemp seed oil, and is usually taken orally or used in cooking. On the other hand, CBD tinctures often have an alcohol base and are taken sublingually by placing a few drops under the tongue for faster absorption. That being said, oftentimes they are used interchangeably. Ultimately, the choice between CBD oil and CBD tincture depends on personal preference and desired usage. It's important to read product labels and follow usage instructions to ensure you're getting the desired effects.
How Do I Use CBD Oil?

Utilizing Sunday Scaries CBD oil is a breeze. Packaged in a glass tincture bottle with a dropper (also known as a pipette), it allows for precise dosing based on your desired outcomes. There are a couple of effective methods you can explore. First, you can add a few drops of the CBD oil to water, tea, or a smoothie, seamlessly incorporating it into your daily routine. Alternatively, for swift absorption, you can place the drops under your tongue and hold them there for around 30 seconds before swallowing. With these simple steps, you're primed to embark on a journey of relaxation and calm.
Where Can You Buy CBD Oil?

If you're on the hunt for high-quality CBD oil, your search ends at Sundayscaries.com. We offer a variety of CBD oil products designed to promote relaxation, calmness, and overall well-being. With a fleet of Full Spectrum Oil products, Sundayscaries.com provides a range of choices to suit your preferences. When purchasing CBD oil, it's important to source it from reputable and transparent providers. Sundayscaries.com stands out as a reliable destination, providing CBD oil products that undergo rigorous testing for quality and potency. Explore our selection and make an informed choice for your CBD oil needs.
What Makes Sunday Scaries the Best CBD Oil?

Sunday Scaries stands out for crafting the best CBD oil with a winning combination of elements. Our CBD oil boasts the power of Full Spectrum CBD, harnessing the potential benefits of various cannabinoids to create the entourage effect – an enhanced therapeutic synergy. But that's not all. We take it up a notch by infusing our CBD oil with Vitamins B12 and D3. These vitamins are renowned for their role in promoting a balanced mood and relieving stress. Vitamin B12 supports the nervous system, aiding in stress management, while Vitamin D3, often referred to as the "sunshine vitamin," contributes to overall well-being. By expertly blending Full Spectrum CBD with Vitamins B12 and D3, Sunday Scaries CBD oil offers a holistic approach to relaxation and stress relief. Our commitment to quality, transparency, and effectiveness sets us apart, ensuring you receive a top-notch CBD oil that addresses your wellness needs comprehensively. Beyond the efficacy of our CBD tincture, the oil itself tastes delicious and does not leave you with a medicinal, metallic or "hemp-like" aftertaste. We flavored it with a subtle and light fruit punch to allow you to consume it on it's own, or, add it to a water or tea without leaving an overpowering taste.
Why Use CBD Oil?

CBD oil offers a unique avenue for decompression and addressing moral hangovers. Its potential to promote relaxation and balance may aid in unwinding after a stressful day or navigating feelings of guilt or discomfort. By incorporating CBD oil into your routine, you're potentially creating a space for mental and emotional relief, allowing you to better manage stress and tackle moral dilemmas. Whether you're seeking a moment of tranquility or looking to address the complexities of a moral hangover, CBD oil's calming properties could provide the support you need. Remember, individual responses vary, so it's wise to explore this option mindfully and consult a healthcare professional if you have any concerns.
Does CBD Oil Work for Hangovers?

Yes, CBD oil has the potential to help alleviate certain symptoms associated with hangovers. CBD's anti-inflammatory and calming properties may aid in managing headache, dizziness, and stress – common hangover side effects. Additionally, CBD's interaction with the endocannabinoid system might contribute to overall relaxation and balance, potentially helping you recover more comfortably. While individual responses can vary, some users have reported experiencing relief from hangover discomfort after using CBD oil. It's important to remember that CBD is not a substitute for proper hydration, rest, and healthy habits. If you're considering using CBD oil for hangover relief, consult a healthcare professional to ensure it aligns with your wellness goals.
What Kind of Oil Do You Use in Sunday Scaries CBD Oil?

In Sunday Scaries CBD oil, we use a base of Full Spectrum MCT (Medium-Chain Triglyceride) oil. This oil serves as an excellent carrier for CBD, enhancing its absorption and potential effectiveness. Full Spectrum MCT oil contains a range of beneficial compounds from the hemp plant, including cannabinoids, terpenes, and trace amounts of THC. This trace amount of THC is within legal limits and contributes to the entourage effect, where different compounds work together synergistically for enhanced therapeutic potential. Given that there are traces of THC in the oil, we advise that you DO NOT consume this product if you need to take a drug test. Our commitment to quality and transparency ensures that you're getting a CBD oil that's not only effective but also compliant with legal standards. With Full Spectrum MCT oil as the base, Sunday Scaries CBD oil delivers a comprehensive and potentially beneficial experience for your well-being.